US-based architect Honglin Li has designed a floating skyscraper that converts waste into energy in the Great Pacific Garbage Patch – a collection of marine debris in the North Pacific Ocean. Named Filtration, Li's proposal won the Honorable Mention in the 2019 eVolo Skyscraper competition.
All images courtesy of Honglin Li

The Great Pacific Garbage Patch spans waters from the west coast of North America to Japan. "The size of the patch is estimated to be 8.1% of the size of the Pacific Ocean, twice the size of Texas, thrice the size of California, the rubbish layer is on average 100 feet thick," said Honglin Li.
"The Great Pacific Garbage Patch is not the only vortex — it's just the biggest. The Atlantic and Indian Oceans both have trash vortexes. Even shipping routes in smaller bodies of water, such as the North Sea, are developing garbage patches."
The skyscraper is designed as a highly modularised prefabricated waste-management and waste-to-energy power plant megastructure that contains several material recovery facilities (MRF) and water treatment plants (WTP) to recycle the floating garbage continent.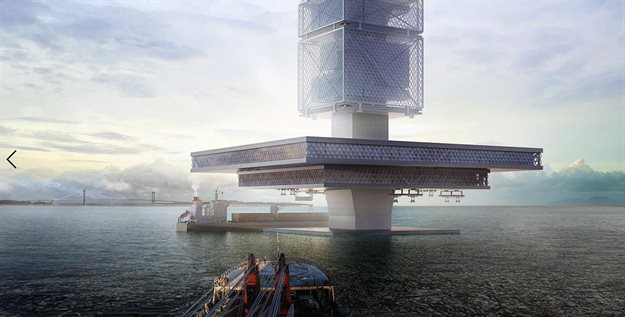 All images courtesy of Honglin Li
Unlike conventional material recovery facilities which mainly rely on gravity by using multiple conveyors to raise the garbage mainstream several times to sort different items, the skyscraper uses seawater to pump the garbage with polluted water together to the highest location of the building and filter the water and recycle the material from top to bottom of the building. Eventually the non-recycled material and recycled material will be transported away.
Source: https://www.bizcommunity.com/Article/196/492/194023.html