Bring your garden to life or create a peaceful pause area with this simple wooden structure by Builders Warehouse that should cost you under R1 500 to make.
Quick project guide
Hard labour: 6/10
Skill level: 6/10
Time needed: 8 hours
Finished size: 1.5m (W) x 2.1m (H) x 1m (D)
Shopping list
– Wood glue
– 8 x 75mm screws and 8 x 50mm screws
– 120 and 240-grit sandpaper
– Wood filler
– Universal undercoat and top coat
– 20mm pin tacks (nails)
– Drill and pilot drill
– Jigsaw
– Pencil
– Measuring tape
– Screwdriver
– Water level
– Hammer
– Large square
– Six 3m lengths of 114mm x 38mm planed all round pine (PAR), cut to four 2 100mm legs and four 1 500mm support beams.
– Four 3m lengths of 38mm x 38mm PAR pine, cut to four 1 200mm trellis supports and five 1 000mm top beams.
– Fifteen 3m lengths of 30mm x 10mm cover strips pine, cut to thirty 750mm lengths and sixteen 1 200mm lengths (for the trellis).
– One 3m length of 228mm x 38mm PAR pine (for the corner braces).
* Product prices may vary according to size and region.
Here's how you make it
Beforehand: Cut a detail on both sides of the top lateral beams. You will fit these later.
Step 1 – Make the trellis
Attach the four trellis supports onto the four legs, drilling a pilot hole and using 50mm screws – position them 240mm from the bottom and 30mm from the side. You will need two lefts and two rights.
Step 2 – Making the sides
Position a left and a right leg on the edges then lay out 15 cover strips (750mm) with equal spacing onto the trellis supports. Fix with glue and pin tacks.
Now fix eight vertical cover strips in place and then repeat on the other side.
Step 3 – Cutting corner braces
Cut four corner braces out of the 228mm x 38mm pine using a jigsaw.
Step 4 – To assemble
Lay one support beam on the ground, then position the trellis sides spaced in from the edges to show the detail – check using the square.
Step 5 – Working on the braces
Counter bore the corner braces to get the screw in deeper, using a bit larger than the head of the screw.
Step 6 – Install braces
Install corner braces which will be sandwiched in-between two support beams. Turn the structure over and repeat on the other side.
Step 7 – Assemble support beams
Now fix the other support beam over this to hide the screws.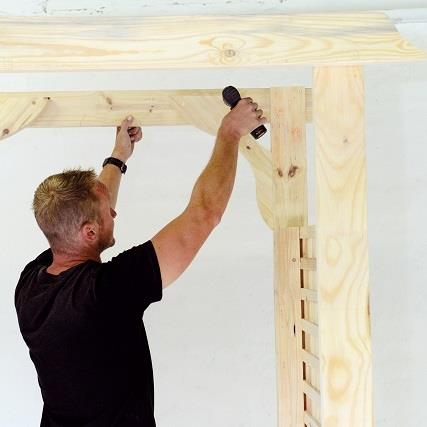 Ask someone to help you hold the structure upright while you attach the corner braces.
Step 8 – Final installations
Install the top beams on top of the support beams.
Now that your DIY is complete, here are some project notes:
– When making outdoor items, it's best to use treated timber – although a coat of universal undercoat will seal it nicely.
– Rest the feet on four bricks to prevent rotting.
Source: https://www.property24.com/articles/garden-design-build-an-awesome-pergola-for-under-r1-500/28006?SourceFeed=News24